This article was taken from thirdgen.org This is an actual GM Technical Service Bulletin, not a traditional Tech Article.
CONDENSATION IN FRONT PARK/ TURN SIGNAL LAMPS #91-65-8B
Subject: CONDENSATION IN FRONT PARK/TURN SIGNAL LAMPS
Model and Year: 1986-91 CAMARO
TO: ALL CHEVROLET DEALERS
CONDITION
Condensation/water in front park/turn lamps.
CAUSE:
Water collects on fascia surface and enters lamp through lamp drain hole.
CORRECTION:
Notch fascia as outlined in the following procedure.
Remove front park/turn lamp as outlined in the Service Manual.
Using a small fine tooth hand saw, notch fascia in lamp opening as shown in Figure 1.
Reinstall lamp.
Repeat for other side if necessary.
Labor Operation Number: T1652 Right Side T1653 Left Side
Labor Time: 0.4 Hours 0.4 Hours
FAILURE CODE: 92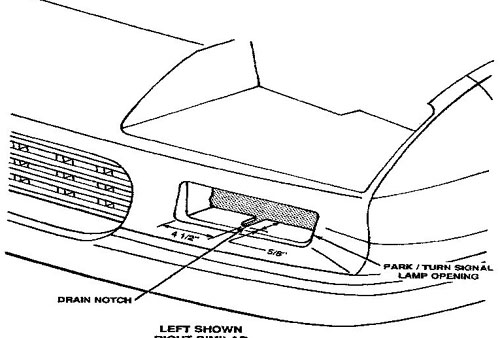 ATGO is not responsible for any damage done to your vehicle by following the above instructions.